Stock Market hours are from 9:30 AM to 4:00 PM EST on weekdays, and closed for all Federal Holidays.
Stock market closure information is updated daily. IsTheMarketOPEN.com is a web platform for investors and traders to access vital information on the opening and closing times of different markets across the globe. An invaluable resource for those looking to trade in the stock market. Knowing when a particular market is opening or closing can help investors make informed decisions about their trades, enabling them to maximize their returns and lower risks trading stocks.
2023 Stock Market Holiday Calendar
Stock market holidays occur on the same days every year, but their corresponding calendar dates can vary. For example, if a holiday falls on a Saturday or Sunday, it may be celebrated on a different day, normally the preceding Friday or following Monday. This is because the stock market is closed on weekends and federal holidays, which include New Year's Day, Martin Luther King Jr. Day, Presidents' Day, Memorial Day, Independence Day, Labor Day, Thanksgiving Day, and Christmas Day.
What Is A Stock Market Holiday?
A stock market closure/holiday is a day when US exchanges the New York Stock Exchange (NYSE) and the NASDAQ, are closed to investors for trading in observance of certain national holidays. It is commonly, the same day every year, however, there have been 9 new holidays added -- for example, Juneteenth has been recently added as a closure for the US market.
When are pre-market trading hours for the US?
Pre-market trading occurs from 7AM - 9:30AM with after-hours trading from 4PM - 8PM EST.
Are the Bond market holidays the same?
Similar to the U.S. stock market, the bond market is closed on the same federal holidays, except for Columbus day and Veterans in 2023 and 2024. The bond market is closed on Columbus day and Veterans day while the stock market is open.
Is the stock market closed on the weekends?
The NYSE and NASDAQ are open Monday through Friday and closed on Saturday and Sunday.
What Are The Top 3 Stock Exchanges?
1 - NYSE & NASDAQ U.S. Stock Exchange - View Hours & Holidays
2 - Shanghai Stock Exchange (SSE) - View Hours & Holidays
3 - London Stock Exchange (LSE) - View Hours & Holidays
What Time Are Bonds Traded?
Bonds are traded in the US from 8AM - 5PM. Pre-market bond trading occurs between 4AM - 8AM. After-market bond trading is from 5PM - 8PM. All times are in Eastern Standard Time.
Is The Stock Market Open Veterans Day?
Yes, Veterans day is the only Federal holiday that the US Stock Markets are open.
Want to use the Atomic Stock Market Clock on your website?
Paste the following code anywhere on your website or app:
<iframe src="//isthemarketopen.com/widget/#/" title="isthemarketopen widget" width="585" height="250" frameBorder="0">Atomic Stock Exchange Clock</iframe>
US Stock Market Trading Hours
Stock market hours: 9:30AM - 4:00PM EST
Trading hours by state and timezone: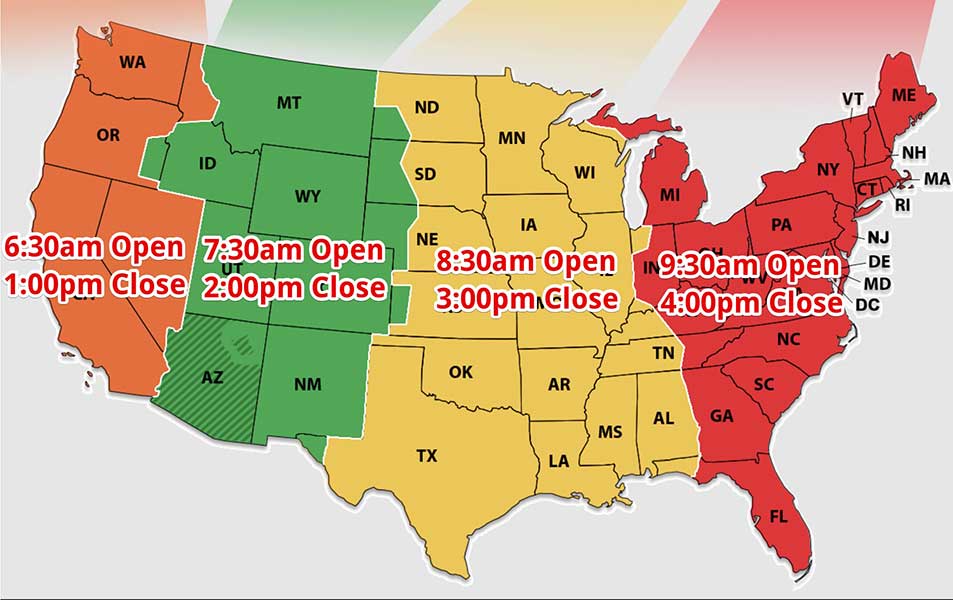 Pacific Time: 6:30AM-1:00PM | Mountain Time: 7:30-2:00 | Central Time: 8:30-3:00 | Eastern Time: 9:30AM-4PM