ALERT: Market CLOSED Friday, November 24, 2023 (1 p.m. EST)
Stock Market hours are from 9:30 AM to 4:00 PM EST on weekdays, and closed for all Federal Holidays.
Daily updates on stock market closures are at your fingertips. IsTheMarketOPEN.com serves as a dynamic web platform catering to investors and traders seeking essential insights into the opening and closing schedules of diverse global markets. This resource emerges as a vital tool for those venturing into stock market trading.
In the intricate world of stock trading, timing is of paramount importance. IsTheMarketOPEN.com ensures that traders are well-equipped with accurate and up-to-date market timings. The platform offers a comprehensive overview of when various markets across the globe are poised to open or close. Such real-time data empowers investors to strategize their moves effectively, aligning their trading activities with optimal market hours.
Recognizing the significance of making well-informed decisions in stock trading, IsTheMarketOPEN.com fills a crucial gap. By understanding the precise timings of market openings and closures, investors can navigate the tumultuous waters of stock trading with a higher degree of confidence. The platform arms them with the knowledge required to seize favorable opportunities, optimize their returns, and mitigate potential risks.
In the dynamic landscape of finance, where every second counts, having access to a resource like IsTheMarketOPEN.com can make all the difference. Whether you're a seasoned trader or just stepping into the stock market arena, this platform equips you with the means to fine-tune your trading strategy, capitalize on market trends, and potentially unlock the door to greater financial success.
With IsTheMarketOPEN.com by your side, you're not just trading stocks; you're trading with precision and insight. Maximize your potential by harnessing the power of accurate market timing information, ultimately shaping a more informed and rewarding trading journey.
2023 Stock Market Holiday Calendar
Stock market holidays occur on the same days every year, but their corresponding calendar dates can vary. For example, if a holiday falls on a Saturday or Sunday, it may be celebrated on a different day, normally the preceding Friday or following Monday. This is because the stock market is closed on weekends and federal holidays, which include New Year's Day, Martin Luther King Jr. Day, Presidents' Day, Memorial Day, Independence Day, Labor Day, Thanksgiving Day, and Christmas Day.
What Is A Stock Market Holiday?
A stock market closure/holiday is a day when US exchanges the New York Stock Exchange (NYSE) and the NASDAQ, are closed to investors for trading in observance of certain national holidays. It is commonly, the same day every year, however, there have been 9 new holidays added -- for example, Juneteenth has been recently added as a closure for the US market.
When are pre-market trading hours for the US?
Pre-market trading occurs from 7AM - 9:30AM with after-hours trading from 4PM - 8PM EST.
Are the Bond market holidays the same?
Similar to the U.S. stock market, the bond market is closed on the same federal holidays, except for Columbus day and Veterans in 2023 and 2024. The bond market is closed on Columbus day and Veterans day while the stock market is open.
Is the stock market closed on the weekends?
The NYSE and NASDAQ are open Monday through Friday and closed on Saturday and Sunday.
What Are The Top 3 Stock Exchanges?
1 - NYSE & NASDAQ U.S. Stock Exchange - View Hours & Holidays
2 - Shanghai Stock Exchange (SSE) - View Hours & Holidays
3 - London Stock Exchange (LSE) - View Hours & Holidays
What Time Are Bonds Traded?
Bonds are traded in the US from 8AM - 5PM. Pre-market bond trading occurs between 4AM - 8AM. After-market bond trading is from 5PM - 8PM. All times are in Eastern Standard Time.
Is The Stock Market Open Veterans Day?
Yes, Veterans day is the only Federal holiday that the US Stock Markets are open.
Want to use the Atomic Stock Market Clock on your website?
Paste the following code anywhere on your website or app:
<iframe src="//isthemarketopen.com/widget/#/" title="isthemarketopen widget" width="585" height="250" frameBorder="0">Atomic Stock Exchange Clock</iframe>
US Stock Market Trading Hours
Stock market hours: 9:30AM - 4:00PM EST
Trading hours by state and timezone: The image below offers a clear overview of trading hours aligned with different timezones across various states. This visual representation outlines the specific hours during which trading activities take place in each region. By referring to this image, you can quickly identify the trading hours that apply to your particular timezone, helping you make informed decisions about when to engage in trading activities. This illustration is a valuable tool for traders, providing a concise and visual reference for understanding the timing of market operations based on different timezones across states.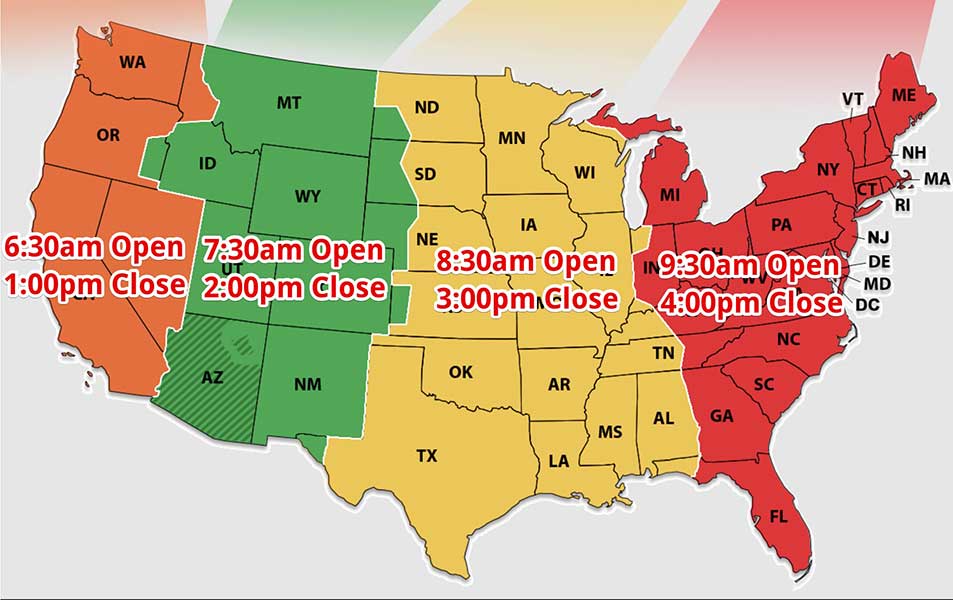 Pacific Time: 6:30AM-1:00PM | Mountain Time: 7:30-2:00 | Central Time: 8:30-3:00 | Eastern Time: 9:30AM-4PM