Is The Stock Market Open Veterans Day?
Yes, Veterans day is the only Federal holiday that the US Stock Markets are open.
When are pre-market trading hours for the US?
Pre-market trading occurs from 7AM - 9:30AM with after-hours trading from 4PM - 8PM EST.
Is the stock market closed on the weekends?
The NYSE and NASDAQ are open Monday through Friday and closed on Saturday and Sunday.
Are the Bond market holidays the same?
Similar to the U.S. stock market, the bond market is closed on the same federal holidays, except for Columbus day and Veterans in 2023 and 2024. The bond market is closed on Columbus day and Veterans day while the stock market is open.
2022 Stock Market Holiday Calendar
Stock market holidays are the same every year, but the calendar days are not exactly the same. Some holidays fall on Saturday or Sunday, which means that the holiday is celebrated on Friday or Monday.
What Is A Stock Market Holiday?
A stock market closure/holiday is a day when US exchanges the New York Stock Exchange (NYSE) and the NASDAQ, are closed to investors for trading in observance of certain national holidays. It is commonly, the same day every year, however, there have been 9 new holidays added -- for example, Juneteenth has been recently added as a closure for the US market.
Are The Markets Closed on Thanksgiving?
No, the U.S. stock market is closed every year on Thanksgiving Day and only open for a half-day closing at 1PM EST the following day on Black Friday.
Is The Stock Market Open on Christmas?
No, the U.S. stock market is closed every year on Christmas Day. This falls on Monday the 26th in 2022.
Is The Stock Market on New Years 2024
No, the U.S. stock market is closed on New Year's Day. This falls on Monday the 2nd in 2023.
What Time Are Bonds Traded?
Bonds are traded in the US from 8AM - 5PM. Pre-market bond trading occurs between 4AM - 8AM. After-market bond trading is from 5PM - 8PM. All times are in Eastern Standard Time.
Want to use this atomic stock clock on your website?
Paste the following code anywhere on your website or app.
<iframe src="//isthemarketopen.com/widget/#/" width="585" height="250" frameBorder="0">Atomic Stock Exchange Clock</iframe>
US Stock Market Trading Hours.
Stock market hours 9:30AM - 4:00PM EST. Trading hours by state and timezone.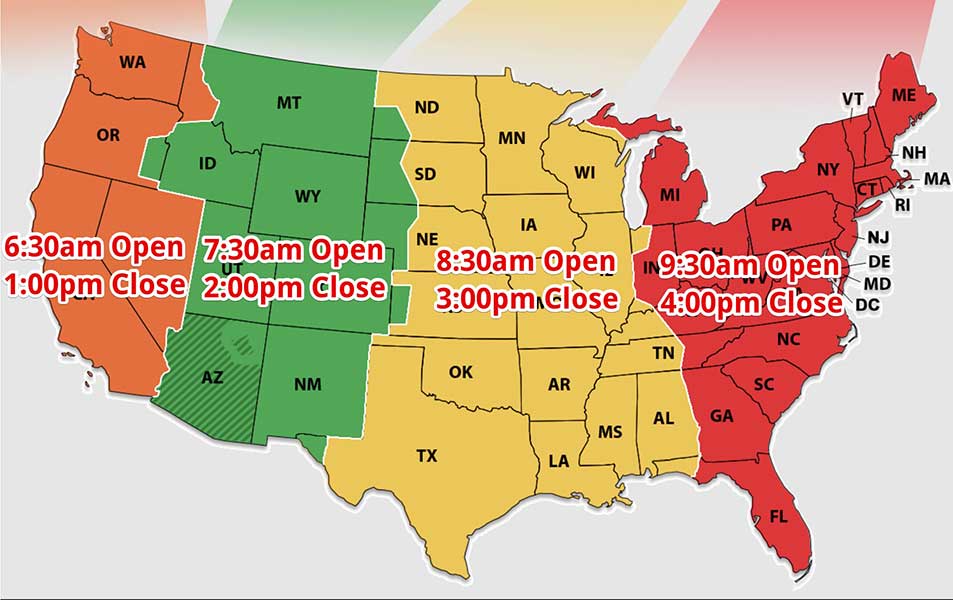 Pacific Time: 6:30AM-1:00PM - Mountain Time: 7:30-2:00 - Central Time: 8:30-3:00 - Eastern Time: 9:30AM-4PM